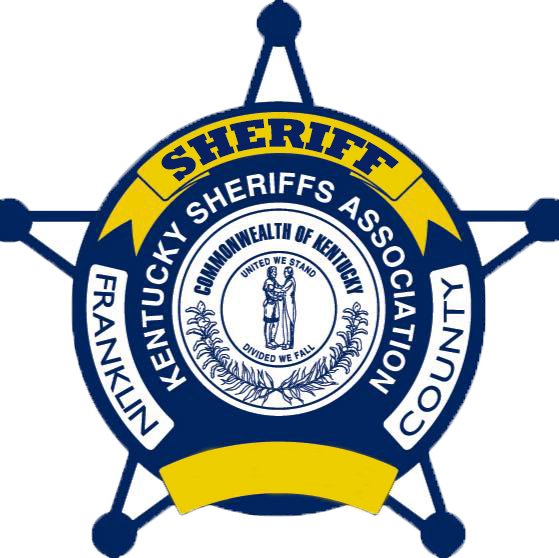 Franklin County Sheriff
Chris Quire, Sheriff
Franklin County Public Safety Complex
974 River Bend Road 
Frankfort, KY  40601
(502) 875-8740 Phone
(502) 875-8738 Fax
Hours:
Monday – Friday
8:00 am – 4:30 pm
The Sheriff serves as a law enforcement official, collects the county property taxes, provides court security, and other services required by statute. Twenty-four hour patrol is provided and deputies are dispatched through a state-of-the art 9-1-1 Communications Center. If you have any questions, please phone us at 502-875-8740.s.
Mission Statement
It is the mission of the Franklin County Sheriff's Office to provide quality tax collection, law enforcement, court security, prisoner transport and civil services to the citizens who live and work in Franklin County.
We are dedicated to conducting ourselves in a manner respectful of the trust that has been bestowed upon us. We are dedicated to this mission and to the people we serve to ensure that Franklin County is a safe place to live, work and visit.
We recognize that Franklin County, as the Capital County, has high expectations. We will strive to meet or exceed those expectations by utilizing five core values. Each point of the five-pointed star of the Sheriff's badge shall serve as a symbol of these values:
Service
Integrity
Courage
Fairness
Innovation
Concealed Weapons Permit Information
Please visit the Kentucky State Police website for information about the Kentucky Carry Concealed Deadly Weapons permit application process and law.
Q: What do I need to have my vehicle inspected?
A: Possession of the vehicle, state title to the vehicle and form TC 96-182 (Application for Kentucky Certificate of Title or Registration) with owner information completed, signed and notorized.
Q: How much does it cost to have my vehicle inspected?
A: Five dollars ($5.00) If you bring the vehicle to the sheriff's office.
Q: I have just moved to Kentucky from another state. How long do I have to license my vehicle in Kentucky?
Q: Where do I go to get my vehicle inspected?
A: Sheriff's Office, 974 River Bend Road, Frankfort. For an additional $10.00 fee, you may call and request a deputy be dispatched to your location for vehicle inspection.  You must have the exact amount of $15.00 in cash or personal check made payable to: Franklin County Sheriff.  Deputies do not carry change. If a receipt is required, you will need to contact the office during normal office hours.
Contact the Sheriff's Office
Franklin County Sheriff's Office
Chris Quire, Sheriff
Franklin County Public Safety Complex
974 River Bend Road 
Frankfort, KY  40601
502-875-8740 – Office
502-875-8738 – Fax
502-320-3306 – Text-A-Tip
Business Office Hours:
Monday – Friday, 8:00 AM – 4:30 PM
If you need a deputy after office hours call our dispatch center at 502-875-8582 or 502-875-8743.
Emergencies: 9-1-1