Solid Waste COVID-19 Update
Yard Waste Wednesday is no longer operating for the remainder of 2020. The program will reopen in the Spring of 2021.
The Landfill Voucher Program is operating as normal. Free dumping is only allowed with a voucher. Residents must follow all rules associated with the program, as well as CDC guidelines for mask wearing and social distancing. 
As for County curbside trash and recycling collection (red carts) – all trash and recycling collection is operating as normal, barring any holidays. Do your best to follow all guidelines associated with trash and recycle pickup, outlined below on this page. Please be patient with the time your trash is collected. With more residents at home, each house has more waste to pick up – thus filling the trucks faster than normal. This means that CKY Hauling has to go back to their landfill to empty more often – which causes the delays. Rest assured that your trash and recycling will continue to be picked up on your scheduled day, unless otherwise noted. If your area has not been picked up by 3pm on any given day, please call Brittany Woodward (Solid Waste Coordinator) directly at 502-875-8751, with your name, street address, and which carts have not been emptied. If you have black trash and recycle carts, please call City Public Works at 502-875-8527.
Paper recycling at the collection bins is still operating as normal. Please only take accepted items to these locations, including: office paper, mail, magazines, catalogs, and newspaper. These bins are located 1) behind the Franklin County Sheriff's Office off of River Bend Rd, and 2) at the Frankfort Recycle Center at 309 Rouse Ave (off Holmes St).
The Road Department is operating it's limb collection service on Thursdays and Fridays – you must call the Road Department at 502-875-8760 to get on the list for pickup. Guidelines for this program include: piles must be less than 3 feet high and 10 feet long, all limbs must be less than 8 inches in diameter, and we do not collect root balls/stumps/or tree trunks with this program. 

Franklin County Solid Waste Management is dedicated to providing a clean and healthy environment for our residents.  The department has a landfill diversion goal of 50% by 2025 and operates numerous programs to assist with this goal.  The Environmental Code Enforcement Officer answers to calls concerning high weeds and grass, junked cars, fallen livestock, and nuisance control.  The Solid Waste Coordinator answers questions concerning residential trash and recycling pickup and coordinates outreach programs.
Litter Hotline
Click here to fill out a form or
Call 502.465.3055
Collection Schedule
Trash and Recycling must be out by 6 a.m. day of collection 
Bald Knob Area, Benson Valley Rd., Dry Ridge Rd., Flat Creek Rd., Harp Pike, Harvieland, Lebanon Rd., McCann Ln., Polsgrove, Stony Creek Rd. Devil's Hollow Road Area, Bark Branch, Bryant-Benson Rd. (Devil's Hollow to St. John's), Pierce Ln., Pea Ridge Rd., Skyview Dr., Saint John's Rd., Singleton Ln., Smoot Ln., and Two Creeks
Louisville Road Area, Avenstoke Rd., Bridgeport Rd., Broadview, Bryant Benson Rd., to St. Johns, Evergreen Rd., U.S. 60 to South Benson, Hawkeegan, Huntington Woods, Sheep Pen Rd., and South Benson Rd., Cardwell Lane Area, Willowcrest, Highlands, Edgewood, Coolbrook and Westview Dr.
Evergreen Road Area, South Benson to U.S. 127 South, Schofield Ln. area, Farmdale subdivision, Green Wilson Rd., Easy St., Meadowbrook, and Iron Dr., U. S. 127 South (Lawrenceburg Road Area), Bentwoods, Big Eddy, Cedar Run, Dove Creek, Hanks Ln., Hanley Ln., Johnson Rd., Jones Ln., Mills Ln., Twilight Tr., Old Harrodsburg Rd., Wash Rd. and Ninevah Rd.
Versailles Road Area, U.S. 421 South including Bon Air, Country Ln., Springhill, Duckers, Millville-Duncan Rd., Slickaway, and Mill Rd., Georgetown Road Area, Elkhorn and Capital Mobile Home Parks, Bedford Rd. Colston Ln., Jones Rd., Lucas Ln., Rocky Branch Rd., Switzer Rd., Westover Rd. Woodlake Rd. and Governor's Place
Steadmantown Lane & Peaks Mill Road Area, Discher Estates, Oaks, Justice Ln., Holt Ln., Union Ridge area, Camp Pleasant, Indian Gap Rd. and Sullivan Ln., Owenton Road Area, Lewis Ferry Rd., Leestown-Manley Rd. Circle Subdivision, Shadrick Ferry Rd., Stonewall Subdivision, Ridgewood Subdivision, Steele Branch Rd., Royal Parkway, Wright Rd., McDonald Ferry Rd., and Swallowfield Rd.
Will my garbage be collected today? When will my garbage be collected after a holiday? Be sure to check out the Central Kentucky Hauling Holiday collection schedules. This link will take you to the CKY Hauling Website for more information.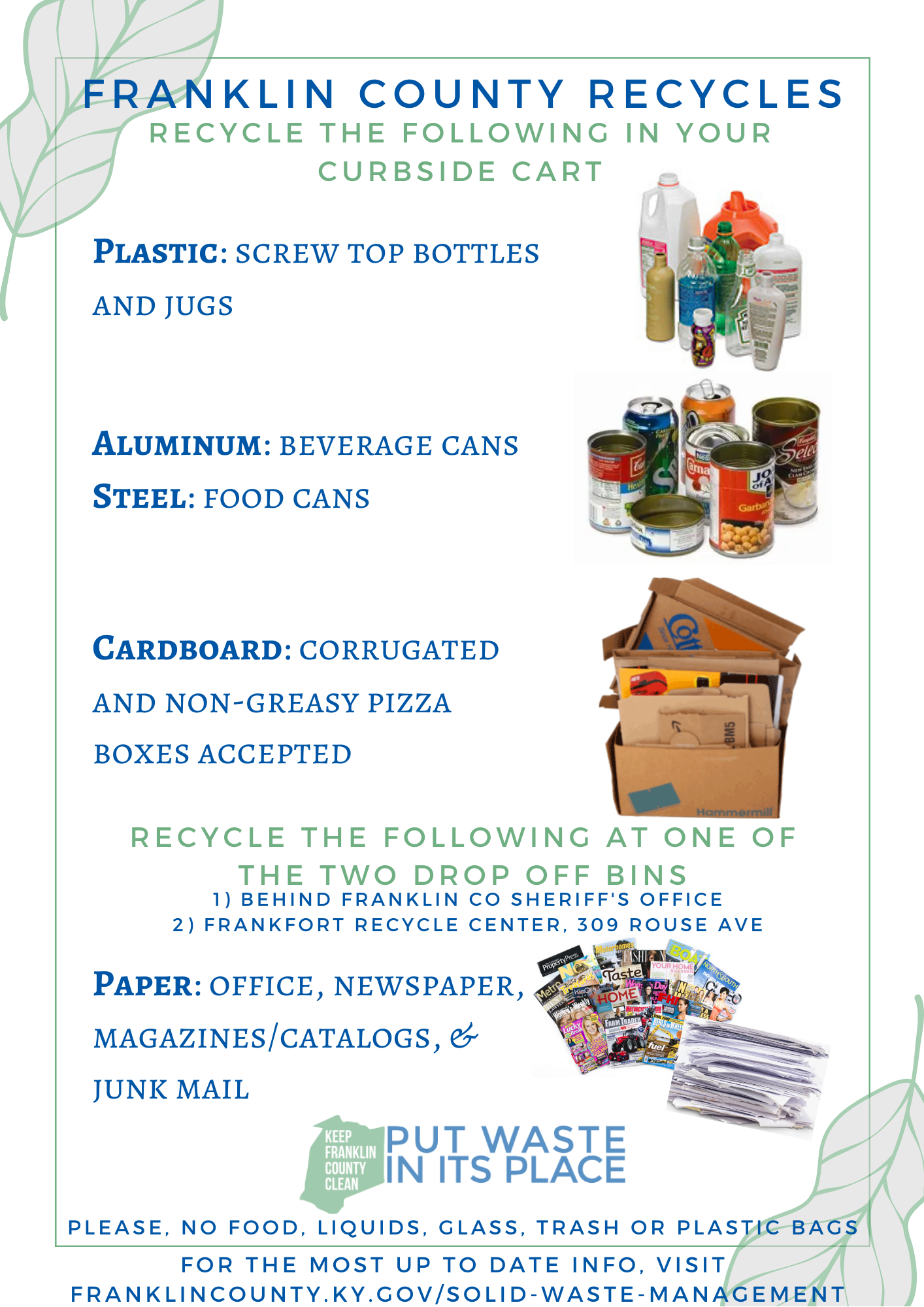 Frequently Asked Questions
Who do I call regarding customer service issues with my trash and recycling?

Central Kentucky Hauling, 859-225-2521, or Brittany Woodward, 875-8751
How do I dispose of large items and extra trash?

An extra bag of trash may be left on top of your red rolling cart for collection. Anything left on the ground next to your cart will not be picked up with your regular curbside trash service.  A second trash cart can be arranged by calling Central Kentucky Hauling and paying the associated yearly fee.
Larger items, such as furniture, may be scheduled for a bulk waste pickup with Central Kentucky Hauling for a small fee, or taken to the landfill during a free voucher day.  For disposal of white-good appliances, contact Billy Jo Giles, Environmental Code Enforcement Officer, for free pickup.
Where can I dispose of an old TV?
The City of Frankfort offers free electronics recycling at the facility located on Rouse Avenue. Newer flat screen models as well as older box style tube televisions may be dropped off at this location.

How do I dispose of hazardous products?
Household Hazardous Waste (HHW) products may be disposed of during the specific HHW collection events.  These collections take place twice annually, once in the fall and once in the spring. The next event is tentatively scheduled for April 2021.

What do I do with waste tires?
Franklin County participates in the Waste Tire Amnesty program, which is part of Kentucky's Energy and Environment Cabinet's (EEC) ongoing effort to rid Kentucky's landscape of waste tires. The program is supported by the Waste Tire Trust Fund established by the Kentucky General Assembly in 1998. The legislation requires tire retailers to collect a $1 fee on all new replacement motor vehicle tires sold.
During a waste tire amnesty event, any Kentucky resident (regardless of county residence) can drop off their unwanted tires at a specific location at no cost. Amnesties are typically held at the host county's State Highway Garage.
The waste tire amnesty program rotates through each county on a 3-year cycle, which is subject to change due to funding or other factors. Franklin County's next event is scheduled for Fall 2021.
Additional information, including the listing of other events, can be found on the Division of Waste Management's website.
 How do I dispose of fallen livestock?
Franklin County and the Franklin County Conservation District offer a livestock disposal program for farmers within the County boundaries. The program accepts cattle, pigs, sheep, goats, etc. No roadkill or pets. Call the Road Department, 875-8760, to be added to the list for pickup. Calls made before 11 AM are usually picked up same day.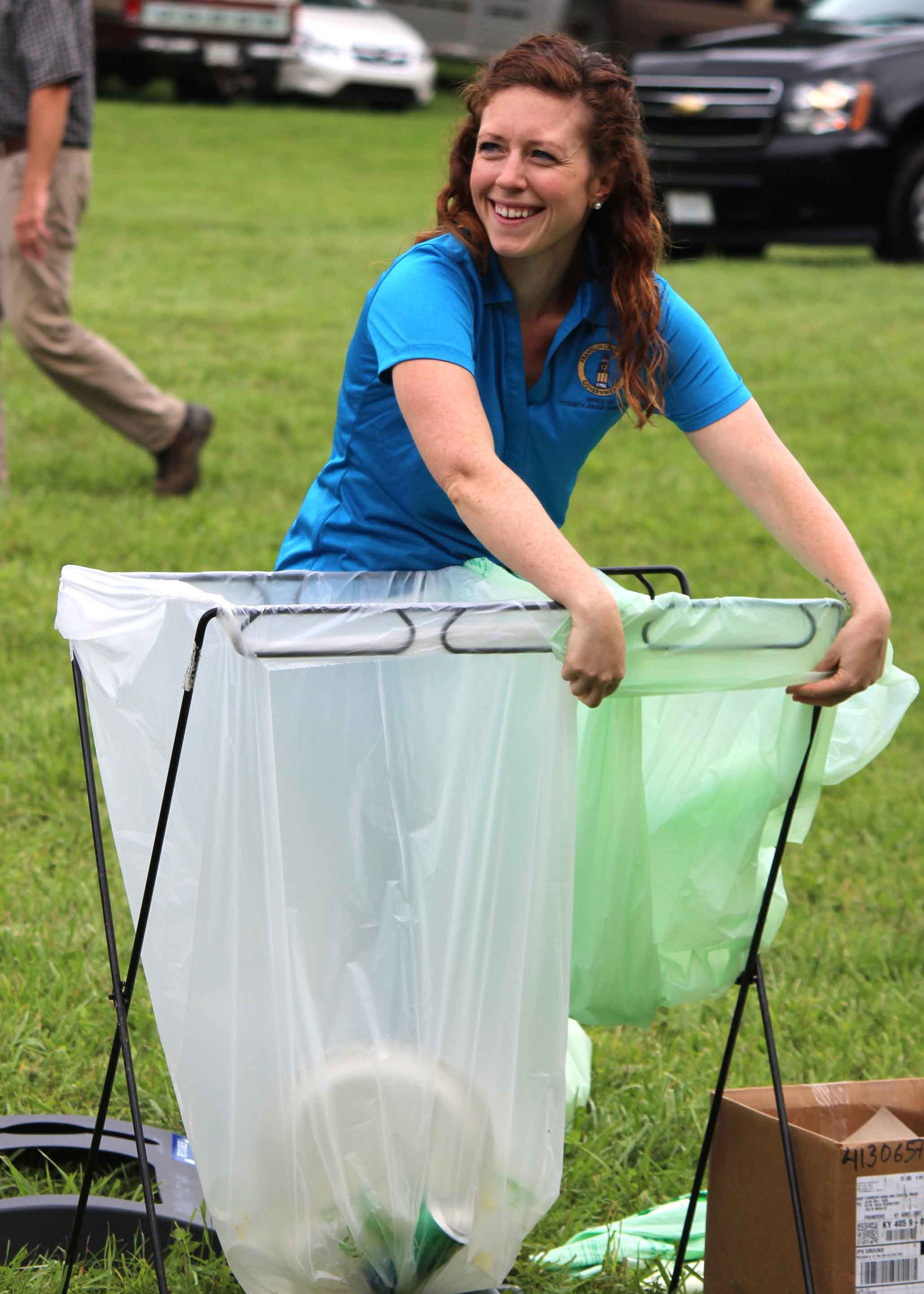 Former Solid Waste Coordinator Blair Hecker changing a recycling bag during the 2017 Farm City Field Day.