Franklin County Solid Waste Management is dedicated to providing a clean and healthy environment for our residents.  The department has a landfill diversion goal of 50% by 2025 and operates numerous programs to assist with this goal.  The Environmental Code Enforcement Officer answers to calls concerning high weeds and grass, junked cars, fallen livestock, and nuisance control.  The Solid Waste Coordinator answers questions concerning residential trash and recycling pickup and coordinates outreach programs.
Follow us on Facebook here!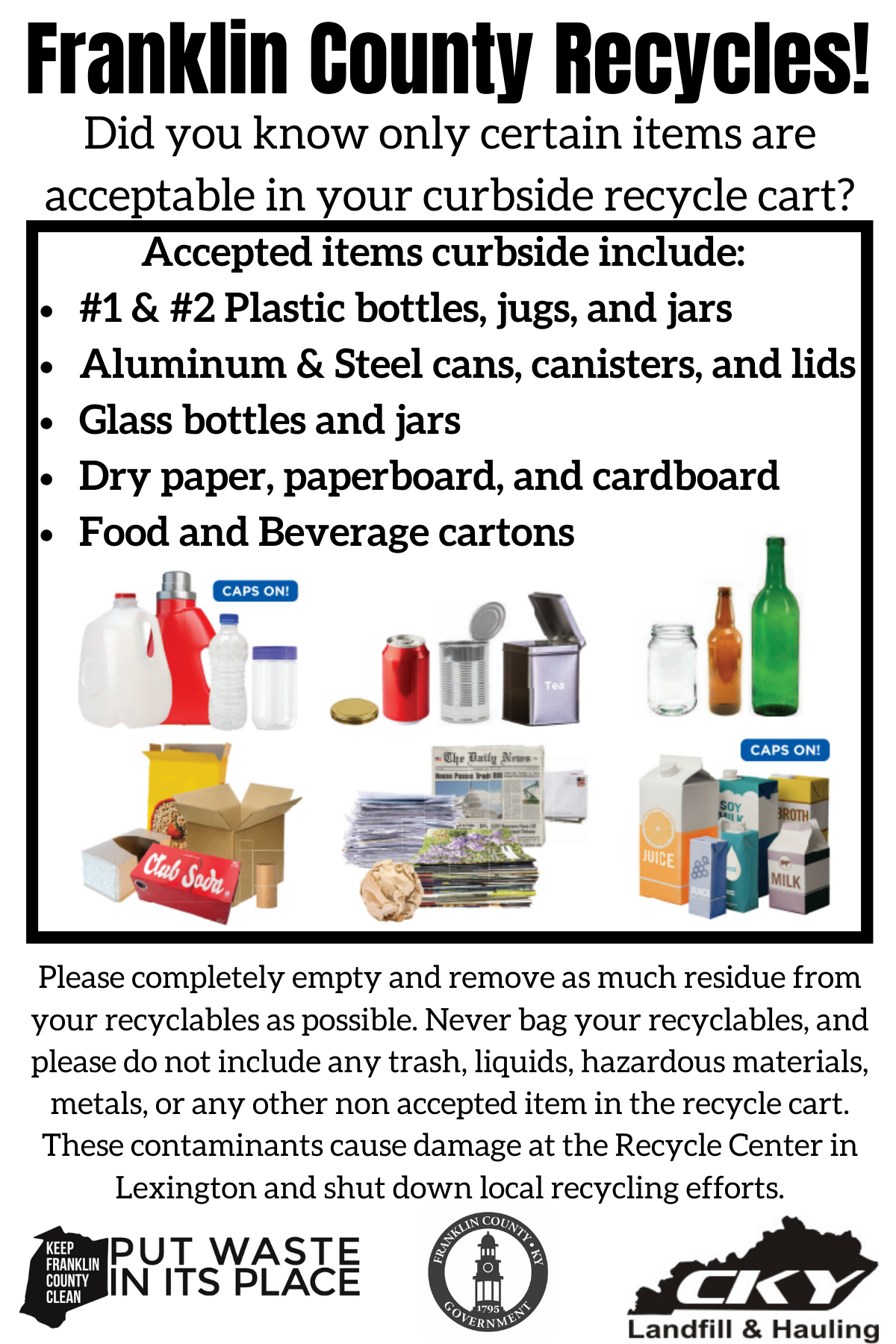 Solid Waste Current Programs
The Landfill Voucher Program is operating as normal. Free dumping is only allowed with a voucher. Residents must follow all rules associated with the program, as well as CDC guidelines for mask wearing and social distancing.  Sign up for the Voucher Program via the link below.
Paper recycling at the collection bins is still operating as normal, even though paper is now accepted curbside. Please only take accepted items to these locations, including: office paper, mail, magazines, catalogs, and newspaper. There is a bin between the Franklin County Sheriff's Office and Fire Station 10 off of River Bend Rd if you still need to drop off your paper.
The Road Department is operating its limb collection service on Thursdays and Fridays – you must call the Road Department at 502-875-8760 to get on the list for pickup. Guidelines for this program include: piles must be less than 3 feet high and 10 feet long, all limbs must be less than 8 inches in diameter, and we do not collect root balls/stumps/or tree trunks with this program.  Yard Waste Wednesday began April 27 and will run through November 2, each Wednesday from 8-12 at the Road Department, 100 Lewis Ferry Rd.
Collection Schedule
Trash and Recycling must be out by 6 a.m. day of collection. Please set your carts at least three (3) feet apart and three (3) feet away from any obstacle (fence, mailbox, car, etc.).
Search your address below for a unique collection calendar. Sign up for reminders, notifications, and more! You can even search our "Put Waste In Its Place" tool to answer all of your disposal questions. If something your searching for is not addressed in the tool, please suggest it! You can download this as a free app via the Apple App Store and Google Play.
Frequently Asked Questions
Who do I call regarding customer service issues with my trash and recycling?

Central Kentucky Hauling, 859-225-2521, or Brittany Woodward, 875-8751
How do I dispose of large items and extra trash?

An extra bag of trash may be left on top of your red rolling cart for collection. Anything left on the ground next to your cart will not be picked up with your regular curbside trash service.  A second trash cart can be arranged by calling Central Kentucky Hauling and paying the associated yearly fee.
Larger items, such as furniture, may be scheduled for a bulk waste pickup with Central Kentucky Hauling for a small fee, or taken to the landfill during a free voucher day.  For disposal of white-good appliances, contact Billy Joe Giles, Environmental Code Enforcement Officer, for free pickup.
Where can I dispose of an old TV?
The City of Frankfort offers free electronics recycling at the facility located on Rouse Avenue. Newer flat screen models as well as older box style tube televisions may be dropped off at this location. The hours are typically 7 AM to 230 PM, Monday through Friday.

How do I dispose of hazardous products?
Household Hazardous Waste (HHW) products may be disposed of during the specific HHW collection events.  These collections take place twice annually, once in the fall and once in the spring. The next event is scheduled for October 22, 2022.

What do I do with waste tires?
Franklin County participates in the Waste Tire Amnesty program, which is part of Kentucky's Energy and Environment Cabinet's (EEC) ongoing effort to rid Kentucky's landscape of waste tires. The program is supported by the Waste Tire Trust Fund established by the Kentucky General Assembly in 1998. The legislation requires tire retailers to collect a $1 fee on all new replacement motor vehicle tires sold.
During a waste tire amnesty event, any Kentucky resident (regardless of county residence) can drop off their unwanted tires at a specific location at no cost. Amnesties are typically held at the host county's State Highway Garage.
The waste tire amnesty program rotates through each county on a 3-year cycle, which is subject to change due to funding or other factors. Franklin County's next event is scheduled for Fall of 2024. 
Additional information, including the listing of other tire events, can be found on the Division of Waste Management's website.
How do I dispose of fallen livestock?
Franklin County and the Franklin County Conservation District offer a livestock disposal program for farmers within the County boundaries. The program accepts cattle, pigs, sheep, goats, etc. No roadkill or pets. Call the Road Department, 875-8760, to be added to the list for pickup. Calls made before 11 AM are usually picked up same day.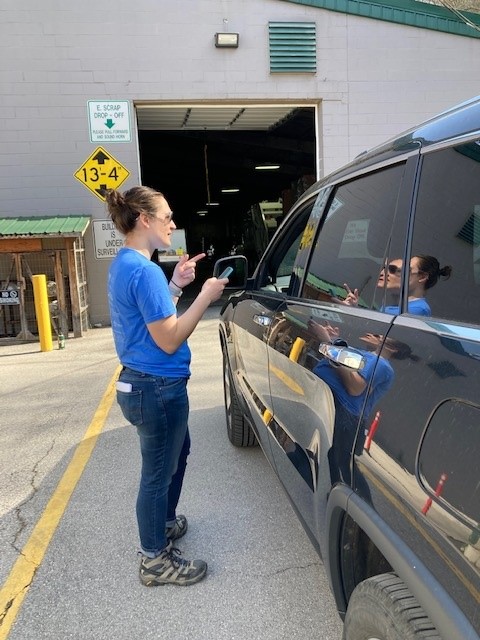 Solid Waste Coordinator Brittany Woodward surveying a resident during the '22 Spring Household Hazardous Waste Collection.